Lloret de Mar lies in Costa Brava, some 80 kilometers North of Barcelona. Lloret is a favorite destination for younger generations, as it has all the right ingredients for unwinding - the sun, the sea, beaches and bubbly nightlife.
The beaches are occupied by sunbathers until late afternoon, after which they move to bar terraces for recovering drinks before dinner time. Large and colorful fishbowls with long straws and a stiff drink are a very common sight in bars next to the beach promenade.
In summer, it's party time until the morning every day of the week. In winter, the town gets quiet like all coastal towns in Costa Brava.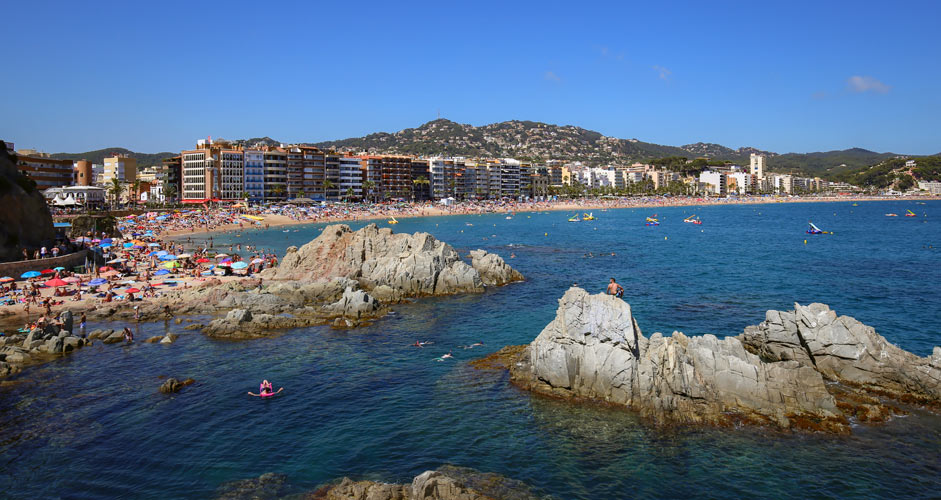 Where to stay in Lloret de Mar
The best selection of shopping possibilities and most of the nicest restaurants are concentrated on the old town, behind the Platja de Lloret beach.
Most of the nightclubs are located along Avenida Just Marlés Vilarrodona, and the main shopping street is Carrer de Sant Pere.
The western beach is called Platja de Fenals, and behind it, there's a wider area packed with hotels and bars. It is located about 2 kilometers from the old town. Unlike the main beach surrounding, this area lacks the charm of an old Spanish town.
Find your hotel in Lloret de Mar from Booking.com Hotel Map Search
Slideshow of Lloret de Mar
Things to do in Lloret de Mar
Lloret de Mar isn't only about the sun and the beach. The town offers plenty of things to do for both, children and grown-ups.
Waterworld, Parc Aquàtic de Lloret de Mar
Although the water park isn't quite as amazing as Caribe PortAventura, it's still the best water park north of Barcelona, offering lots of great fun for adults and children alike. Besides lagoons and wave pools, there's a variety of scary and less adventurous water slides in the park. You can test your nerves in a 77-meter-high Kamikaces slide that speeds you up to 60 kmh. The restaurant services concentrate on fast food.
Website: waterworld.es
How to get: The water park is 1,5 kilometers away from the Lloret de Mar bus station in the town center, so it's a long hike but doable nonetheless. There's also a free shuttle bus from Lloret de Mar bus station. Check FAQ section of their website for timetables.
Church of Sant Romà
The Gothic style Sant Romà, located right in the center, is the oldest church of Lloret. This dazzling church, built in the 16th century, is a Lloret landmark, and its colorful mosaic domes won't go unnoticed.
Address: Plaça de l'Església, 4
Santa Clotilde Gardens
These beautiful renaissance gardens designed by Nicolau Rubió i Tuduri, are not to be missed if you appreciate green spaces. It's a perfect spot for a short walk and having an afternoon picnic with breath-taking views over the Mediterranean. There's a 6-euro entrance fee into the park.
More information: patrimoni.lloret.cat
How to get there: 2,5 kilometer walk from the center of Lloret. Alternatively, you can grab a taxi.
Gnomo park
This theme park is designed for families with children. The Gnome Park offers lots of leisure activities within its massive 40,000 m2 area in the outskirts of Lloret. There are tree adventure courses with ziplines, mini-golf, arcade room with interactive games and mini-kart circuit. There's also a cafeteria and a restaurant inside the park.
Website: gnomo-park.com
How to get there: The park is located 3,5 kilometers away from the center of Lloret. The easiest ways to get there include taxi or a car.
Hiking
The coast of Lloret is ideal for hiking and Nordic walking. There are endless paths winding along the cliffs next to turquoise Mediterranean with beautiful little coves. For trail ideas and maps check lloretdemar.org.
Beaches
The beaches in Lloret de Mar are well-maintained and the number of services available is high, especially around the main beach Platja de Lloret. The beaches are quite popular in the high season, and for those seeking for more quiet surroundings, there are beautiful little coves outside Lloret.
The sand in the beaches of Lloret, like in all beaches of Costa Brava, is more coarse than the sand in the Barcelona area or in Costa Dorada, south of Barcelona.
Restaurants
Lloret de Mar may not be the mecca for foodies, but there is plenty of good restaurants in the village. Most of the restaurants are located in the center, between Sant Roma Church and the beach, where you will find a nice variety of cuisines from Indian to more typical local fish & seafood restaurants.
Shopping
There's a decent selection of shopping possibilities in Lloret de Mar. In the city center, you'll come across stores like Mango, Benetton etc. For slightly larger selection of shops, take a bus to Blanes only 5 kilometers away. The selection of shops in Blanes is slightly better than in Lloret.
Prices in Lloret de Mar
Prices of restaurant services in Lloret de Mar are close to the average in the European Union. Hotel room prices are much cheaper in the early summer, before the real high season starts in July.
Below, there are some examples of restaurant and hotel prices in Lloret. Costs of hotel rooms are median prices at Booking.com.
How to get to Lloret de Mar
From Barcelona Airport
There's a direct bus connection from Barcelona airport El Prat, operating via the Estació del Nord station in Barcelona City. From El Prat, it takes about 35-55 minutes to Estació del Nord depending on the terminal you leave from, and from Estació del Nord about an hour to Lloret.
Timetables for buses: Moventis
Train connections from Barcelona up north to Costa Brava are limited to Blanes; the railroad connections take a turn to inland after that. The distance from Blanes to Lloret is 6-7 kilometers.
Timetables for trains: renfe.com.
From the city of Barcelona
There's a non-stop bus connection from the Estació del Nord bus station in Barcelona to Lloret de Mar. The journey takes about an hour or a little more. Estació del Nord is located next to the Arc de Triomf metro station, a little over a kilometer away from the Catalonia Square.
Timetables for buses: Moventis
From Girona Airport
From Girona airport there's a bus connection to Lloret. The distance is about 30 kilometers and takes about 35 minutes.
More information: barcelona-girona-airport.com
Weather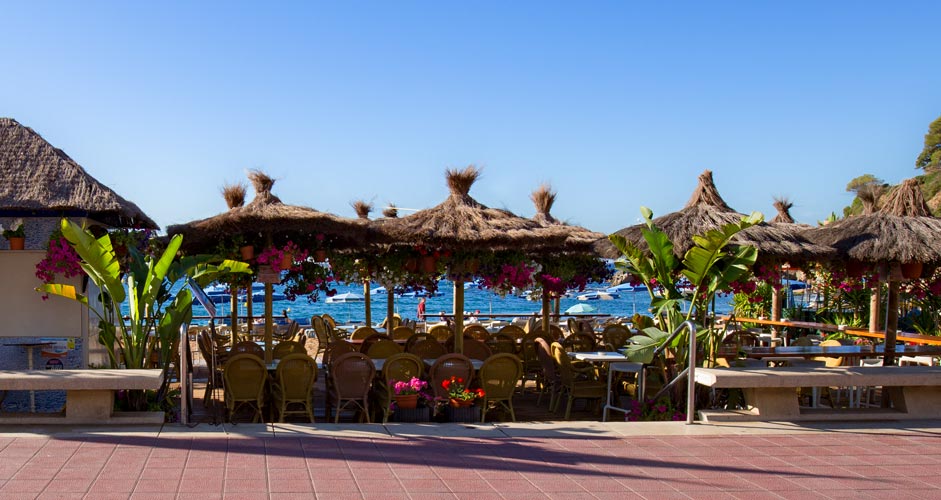 Winter: Winters are mild with average daily highs between 5°C to 15°C. It rains frequently.
Spring: In March and April, temperatures may exceed 20°C. However, have a coat with you just in case, since mornings and evenings are somewhat chilly. Seawater is still too cold for swimming, but it rains less than in the winter. In May, temperatures exceed 20°C and beaches begin to attract sunbathers.
Summer: June is a good month to visit Lloret. During the hottest hours of the day, temperatures vary between 25°C ja 30°C. July and August are the hottest and driest months of the year, with temperatures as high as 35°C in the shade.
Autumn: Temperatures and sea water remain warm in early autumn. The beach season continues until mid-October, after which temperatures begin to drop to 20°C and below. There's more rain the further the autumn advances.
---
Text: Ville Ryynänen
Photos and video: Jussi Ryynänen
Music of the video: Some Obsession / Silent Partner – Audio Library, Youtube
Check out other destinations in Spain