Barcelona has an excellent selection of restaurants. Barcelona restaurants range from 3-Michelin starred haute-cuisine restaurants to local corner bars, proudly serving their Patatas Bravas with decades of experience. Catalonian kitchen is world-famous, thanks to celebrity chefs like Ferran Adrià and Carles Abellán, who have disrupted the world of cooking. They have inspired new generations of chefs to open paths for new styles of Barcelonian cooking.
Some of the best restaurants in Barcelona have been established by people whose roots are far from Spain, people who've brought their traditional cooking recipes with them. Pretty much all kitchens of the world are represented in the city - Argentinian, Brazilian and Uruguayan steak houses serving delicious cuts of meat sizzling on the parrilla. Moreover, Peruvian restaurants honor their traditional courses, such as ceviche, and many other delicious courses.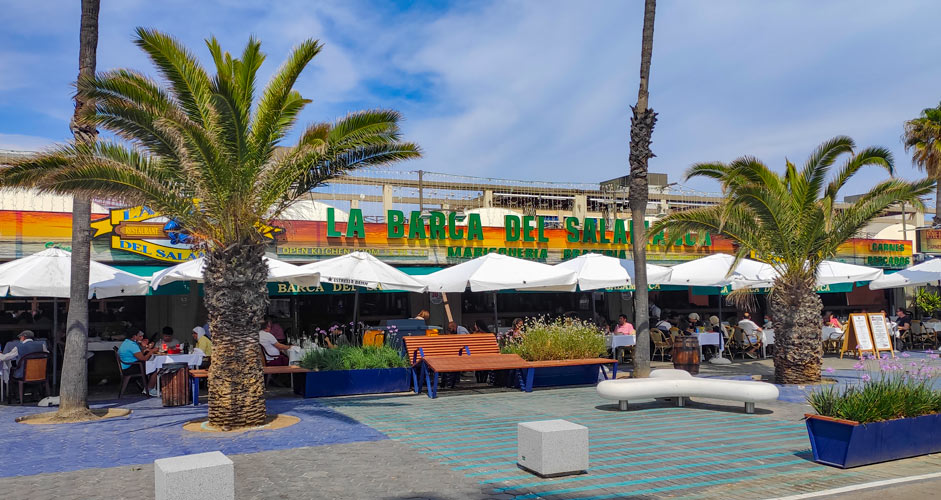 Spanish and Catalonian kitchen
Spanish and Catalonian kitchens are very close to each other. Traditional recipes include ingredients from the land and the sea, often combined in one dish. Mar i Muntanya, translated as the Sea and the Mountain, is a true classic dish of the Catalonian kitchen.
Tapas at its simplest form consists of a piece of bread or olives. Many of the traditional tapas courses come from Andalucia, and when the wave of Andalucians migrated to Catalonia in search of labor, they brought their traditional recipes from their region. You'll find tapas, or tapes in Catalan, restaurants everywhere in Barcelona.
Estimated dinner prices per one person:
€ =  10-15 euros
€€ = 15-25 euros
€€€ = Over 25 euros
Best Tapas Restaurants in Barcelona
La Pepita (Gracia) - Price level: €€
The relatively new tapas restaurant near Gracia has become very popular among locals and tourists, thanks to its delicious and creative portions of tapas. The vast menu includes old tapas classics and new fusion dishes. La Pepita doesn't take any table reservations - early birds will get a table, so be sure to be around at the opening time.
Website: La Pepita
Bar Calders (Sant Antoni) - Price level: €
Cheap tapas, cheap drinks and quality food - Bar Calders is maybe the favorite tapas restaurant in the whole Barcelona, with regards to price quality ratio. Sometimes, it might take a moment before you get the attention of a busy waiter, but it's worth it. You'll find traditional and less traditional tapas on the menu. Fried potatoes drowned in Provolone cheese is a sin, but you only live once. The patio outside creates a nice setting for a memorable dinner. Be sure to make a reservation or else be ready to queue for a table for some time.
Website: Bar Calders
La Taverna del Clinic (Eixample Left) - Price level: €€€
In a very residential area, next to Hospital Clinic, you'll find the Taverna del Clinic serving modern tapas dishes in a sophisticated environment - sommelier, white tablecloth and symmetrically placed cutlery. The food is exquisite and the service excellent. Their wine collection is one of the biggest in Barcelona.
Website: La Taverna del Clinic
Best Paella Restaurants in Barcelona
Best Vegetarian Restaurants in Barcelona
Teresa Carles (Raval) - Price level: €€
The restaurant carries its founder's name, Teresa Carles, who is a pioneer in Spanish Vegetarian cooking. She started her business already in 1979. The carefully elaborated recipes that have been refined over 30 years, are exquisite. They also serve great daily set menus for a good bargain.
Website: Teresa Carles
Flax & Kale (Raval & Born) - Price level: €€
The Flax & Kale became a success right after the opening. The restaurant is also owned by Teresa Carles and follows the recipes of organic vegetarian food concept. Flax & Kale is also a popular breakfast & brunch place.
Website: Flax & Kale
Biocenter (Raval) - Price level: €€
Biocenter has been serving vegetarian dishes from 1980's, being one of the first veggie restaurants in town. They have very reasonable prices and delicious dishes. They also offer daily set menus from Monday to Friday.
Website: Biocenter
Best Breakfast & Brunch Restaurants in Barcelona
---
Text: Ville Ryynänen. Photos: Jussi Ryynänen
Other Categories in Barcelona