St Julian's is the center of nightlife in Malta and a well-suited destination to combine partying with beach-life.
Younger visitors should head to Paceville, which is a central area packed with bars, restaurants and nightclubs. For quieter holidays, choose Spinola Bay or Balluta Bay, which both come with far less action than Paceville. The city's large high-end hotels with their own swimming pools provide a nice setting for a family vacation with kids. If you prefer an actual beach to take a dip while enjoying the sun, there's a sandy beach right next to Paceville. The city also has a good selection of watersports to offer.
St Julian's is the most versatile holiday destination in Malta. In addition to the bars and nightclubs in Paceville, St Julian's contains a major portion of the five-star hotels of the country, a luxury marina and plenty of activities - not to mention the vast array of restaurants serving food to everyone's taste.
Where to stay in St Julian's
Paceville, the area between the beach of St George's Bay and Spinola Bay, has a great selection of hotels, bars and nightclubs.
If you're past your partying years, Spinola Bay with the colorful fishing boats and numerous restaurants, is a nice small area to relax and to spend an easy-going holiday. Unfolding from Spinola Bay to the south, there's a three-kilometer-long seaside promenade reaching all the way to the other side of Sliema.
Things to do in St Julian's
Diving
There are several companies offering diving courses and equipment rental. The diving sites are located around Malta. Here are some providers with good reviews on TripAdvisor:
starfishdiving.com, crestadivecentre.com, divemalta.com.mt, conceptscubamalta.com
Water Sports
Jet skis, paddle boats, canoes, water skiing, wake boarding, banana rides, crazy sofa, ringo rides, paragliding. Or maybe scuba diving or snorkeling? There are many diving centers in St Julian's offering courses for both beginners and more experienced divers.
Below, you'll find some service providers with good reviews on TripAdvisor.
On the northern shore of St George's Bay, next to the Hotel Corinthian:
On the northern shore of Spinola Bay:
Cruises
There are several options available, anything from party cruises to sightseeing cruises. Visit Gozo or Comino and the Blue Lagoon, or go around the island; the choice is yours. The bigger ferries depart from Sliema Port, not St Julian's. It's located about 2,5 kilometers to the south from Paceville. Some of the smaller boats depart from St Julian's. Check out the water sports links above.
Casinos
There are three large casinos in St Julian's: Portomaso, Dragonara and Casino Malta.
Beach
The St George's Bay beach is located on the northern side of Paceville. The beach is pretty crowded in the summertime and the sea bottom gets deep quickly. Therefore, it might not be the best beach for small children.
The best beaches in Malta (Mellieha Bay/Golden Bay/Ghajn Tuffieha) are approximately 20 kilometers away from St Julian's.
Restaurants
As expected from a popular tourist destination, St Julian's has a versatile selection of restaurants. While Snack bars and fast food restaurants are mainly situated in Paceville, there are dinner restaurants everywhere in the city.
Restaurants with the highest quality are mostly housed by the five-star hotels (Corinthia, Intercontinental, Hilton, Radisson Blu, Marriott, Westin Dragonara). Michelin or Bib Gourmand restaurants are to be found just a fifteen-minute taxi ride away in Valletta.
Shopping and prices
There's a shopping complex called Bay Street in Paceville as well as smaller shops and boutiques. The largest shopping mall of Malta, The Point, is located in Sliema, about three kilometers to the south from Paceville.
Some examples of prices can be found below. The source for the hotel room prices is Booking.com.
From Malta Airport to St Julian's
Luqa airport is the only airport in Malta. It's located about 12 kilometers southwest from St Julian's. Bus lines X2 and the newer and faster line TD2 take you from Malta Airport to St Julian's (San Giljan).
The TD2 line takes only 25 minutes to St Julian's, whereas the X2 line takes around 80 minutes; take the direct line if you can. A journey planner can be found here.
Fixed taxi prices from the airport can be found here. An administrative fee of a few euros could be added to the price. Bolt works in Malta, and it's cheaper than the airport taxi.
Weather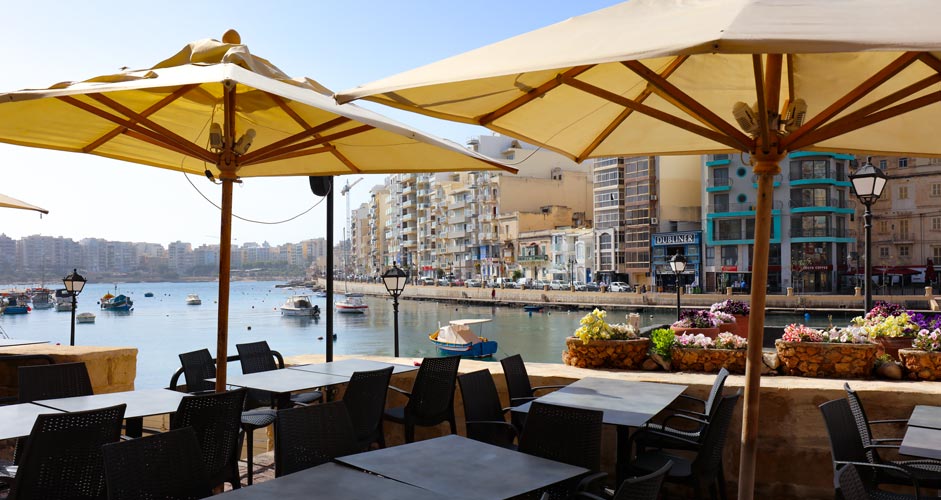 Winter: Temperatures fluctuate between 13-19°C during the daytime but may drop to about 10°C at night. The rainiest period of the year is between October and February.
Spring: Daytime temperatures may exceed 20°C already in March. In April, daytime weather is similar to that of summer, but evenings remain cool. Therefore, appropriate clothing is advised. The rainfall decreases towards summer.
Summer: Summers are hot and dry with daytime temperatures reaching 30°C regularly - and exceeding it in July-August. Nighttime temperatures may drop to 20°C in June but remain around 25°C later in summer.
Fall: It remains warm until late in autumn. Even in October, temperatures are around 25°C during the daytime. In November, temperatures begin to drop to about 20°C during the day, and to 10-15°C at night. It's starting to rain more frequently towards winter.
---
Text, images and video: Jussi Ryynänen
Music of the video: Sailing / Delicate Steve – Audio Library, Youtube
All destinations in Malta