Klagenfurt am Wörthersee has two different sides packed in one - on one hand, it's a tranquil resort by a warm and turquoise Alpine lake where you can relax with your children, do water sports, take dips in the public lidos and enjoy pleasant meals on lakeside restaurants.
On the other hand, some 4 kilometers away from the lake, there's the historic city center with charming renaissance courtyards, beer gardens and trendy bars.
Where to stay in Klagenfurt
There are a couple of hotels by the lake, which could be a good location for families. It's not a long drive from the city center either.
For everyone else the city center or near it is the best choice, because there isn't much to see outside the center. It's often called Innere Stadt on the maps.
There is also a campsite by the lake: camping-woerthersee.at
Things to do by the lake
Wörthersee is a big lake and this section covers only the most eastern part of it, one that is inside the Klagenfurt city limits. Buses run every 15 minutes between Klagenfurt (Heiligengeistplatz) and Strandbad by the lake.
Strandbad Klagenfurt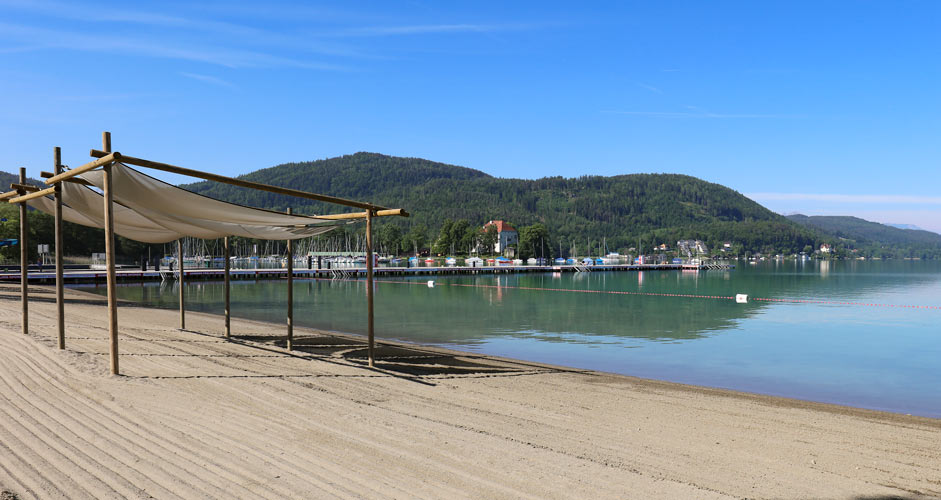 There is a small beach as well as three long piers for swimming and sunbathing right by the lake. They charge a fee to get in, but facilities are way better than on a typical public beach. There are also a couple of restaurants and a bakery.
These pictures were taken just after it was opened in the morning, that's why there aren't many people around.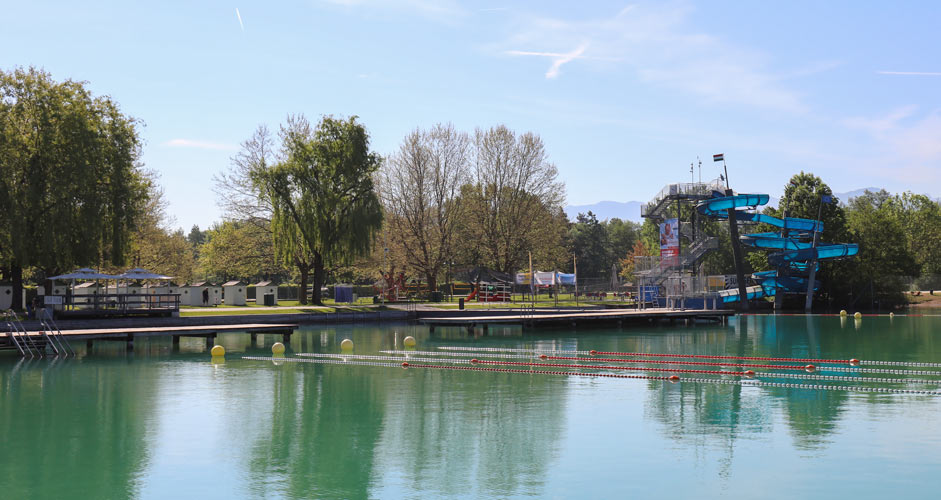 There are also two smaller bathing places near the Strandbad Klagenfurt: Loretto is very close and easy to walk to, but reaching Meiernigg takes more effort. There's a nicer restaurant next to the Loretto strandbad.
If you don't want to pay for swimming, unfortunately there are no public beaches in Klagenfurt area. And most of the lake is filled with private residences, so it isn't easy to find an empty spot on the shore either.
Other attractions:
Minumundus is an area with miniature models of famous sites in the world. Website: minimundus.at
Reptilienzoo: reptilienzoo.at
Planetarium: planetarium-klagenfurt.at
Minigolf:  adventureminigolf.at
Prices in Klagenfurt
Prices of restaurant and hotel services in Austria are slightly above the average of European Union prices.
Below, there are some examples of restaurant and hotel prices in Klagenfurt. Costs of hotel rooms are median prices at Booking.com.
How to get to Klagenfurt
The closest bigger airport is in Ljubljana, and it's only a rather short direct bus ride to Klagenfurt. A little over an hour. But there aren't too many direct lines in a day.
Kärnten (or Klagenfurt) Airport is only a few kilometers away from the city centre, but it's a small one, and not many airlines operate to/from that airport.
Trains and buses from other cities in Austria: oebb.at
---
Text and images: Jussi Ryynänen
All destinations in Austria