Rovaniemi is the Capital of Finnish Lapland and the center of culture & commerce of Northern Finland. In Rovaniemi, comfortable urban life, quality hotels and fine restaurants combine with Lappish wilderness unfolding from the outskirts of the city center.
In December and January, the quiet city turns into a buzzing nest of Christmas tourists, arriving to witness Santa Claus at his official home by the Arctic Circle. Moreover, the endless possibilities of winter activities attract tourists to Rovaniemi.
Where to stay in Rovaniemi
The best selection of hotels is concentrated in the city center. Rovaniemi is a well-suited base for heading off to excursions like husky safaris or snowmobile tours, especially since the shuttle transfer from central hotels is usually included in the price. In addition, the city center has the best selection of restaurants, shops and nightlife venues.
Ounasvaara Hill is another area to consider for accommodation, if you're looking to stay in a more secluded place and concentrate on winter sports like cross-country skiing or downhill skiing. There's a vast network of hiking trails with breathtaking views from numerous viewing points along the trails. The Finns love the cottage life, and at Ounasvaara Hill, you can lodge like a local with plenty of cabins to choose from. There are a few mid-level hotels in the area as well.
Santa Claus Village is yet another place to consider for accommodation. However, beware that you might get overloaded with Christmas spirit, if you're staying for more than 1-2 days.
Sights and attractions
Rovaniemi is the main culture and science hub of Finnish Lapland. Dive deeper into the fascinating nature of the Arctic Region in Arktikum Museum. Study the northern forests in the science center Pilke. Or make a day trip to Ranua Wildlife Park and witness the arctic animals in front of your eyes.
Santa Claus Village, which is the official home of the Santa Claus, spreads holiday spirit even outside the festive season.
Santa Claus Village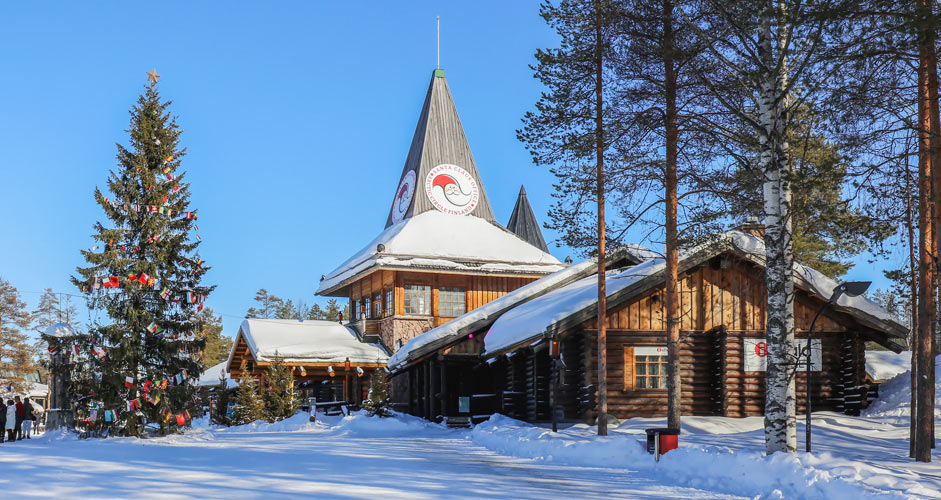 Santa Claus Village is the most famous attraction in all of Lapland. For obvious reasons, December is the peak season in the village, and it's buzzing with visitors from all over the world. It gets less crowded towards the spring.
The Santa Claus Village is growing every year, offering more and more accommodation and activities for its visitors. In addition to visiting Santa Claus himself, there are Santa-themed places in the village, such as his own post office, his main office or Elf's Farmyard.
There's plenty of activities on offer inside the Santa Claus Village, such as crossing the Arctic Circle line, meeting reindeer, having short sledge rides with huskies or wondering the beautifully crafted snow art at Moomin Snowcastle.
There's also a wide selection of restaurants to choose from. You may even enjoy a hearty lunch in icy surroundings at Snowman World Ice restaurant.
How to get: The local traffic bus line number 8 takes you to the Santa Claus Village. 
Website: Santa Claus Village
Map (as pdf)
Arktikum
Arktikum Museum is one of the most renowned museums in Finland. The museum displays the characteristics of the arctic nature, culture and history through permanent and temporary exhibitions, where the focus is on the flora, fauna and the Sámi people. The narrative is interestingly laid out through interactive displays and vivid replicas of artifacts, which makes the museum family friendly.
Website: Arktikum.fi
Pilke
Learn everything you need to know about forests and forestry at Pilke Science Center. Get behind the wheel of a forestry machine, climb into a bird house and sing karaoke on an ant hill.
Website: Pilke.fi
Ranua Wildlife Park
Meet arctic animals at Ranua Wildlife Park in the serenity of the Lappish forest, just an hour's car drive away to the South. The inhabitants comprise of over 50 species, from furry polar bears to arctic foxes and snowy owls. Bring along sausages and grill your lunch on a campfire in the midst of the forest.
Website: Ranua Wildlife Park
Things to do in Rovaniemi
There are outdoorsy activities available all year round in the Rovaniemi region. In the summertime, the rivers of Ounasjoki and Kemijoki are ideal for fishing and canoeing. During the wintertime, the thick layers of snow provide endless possibilities of activities with pure fun.
Husky rides
Huskies thrive in cold weather, and they've been a faithful companion to the Arctic peoples for centuries. Sledge rides pulled by a pack of running-hungry huskies are offered in various places around Rovaniemi. Hop on and dash through the vast forest lands; what a fun way to explore the surrounding nature.
You can choose the distances from short 15-minute sprints to long overnight husky expeditions. Also, remember to check in beforehand as to whether the husky ride includes a husky musher, or whether you ought to mush yourself.
Arctic Circle Husky Park is a convenient place for shorter rides or meeting the huskies.
Reindeer rides
Cute furry reindeer are everywhere in Northern Finland - in fact, there are more reindeer than people in Lapland. You'll find several reindeer farms offering sleigh rides in Rovaniemi. The easy-going sleigh rides are a perfect fit for the whole family.
Santa Claus Reindeer offers short sleigh rides at the Arctic Circle.
Snowmobiling
Those who like motors, will most likely enjoy snowmobiling. It's a fun and easy way to reach beautiful spots in the nature that couldn't be reached by car. Remember that you need to have a valid driving license in order to drive a snowmobile. There are various safari houses in Rovaniemi that organize tours from short drives to long overnight excursions.
Lapland Safaris is one of the most renowned and experienced safari providers.
Downhill skiing and cross-country skiing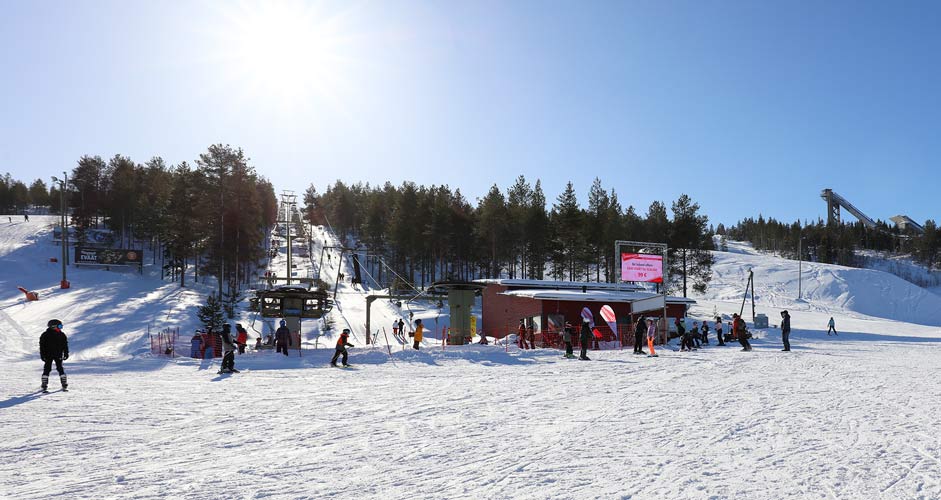 Ounasvaara Ski Resort is located just outside the city center. The ski center offers over 100 kilometers of tracks for cross-country skiing and 10 slopes for downhill skiing, of which the longest slope reaches 820 meters in length. The cross-country tracks circle around Ounasvaara. You can start and stop skiing anywhere you wish; it's not necessary to start at the ski center.
Prices of Ski rental and lift tickets
Map of Ounasvaara slopes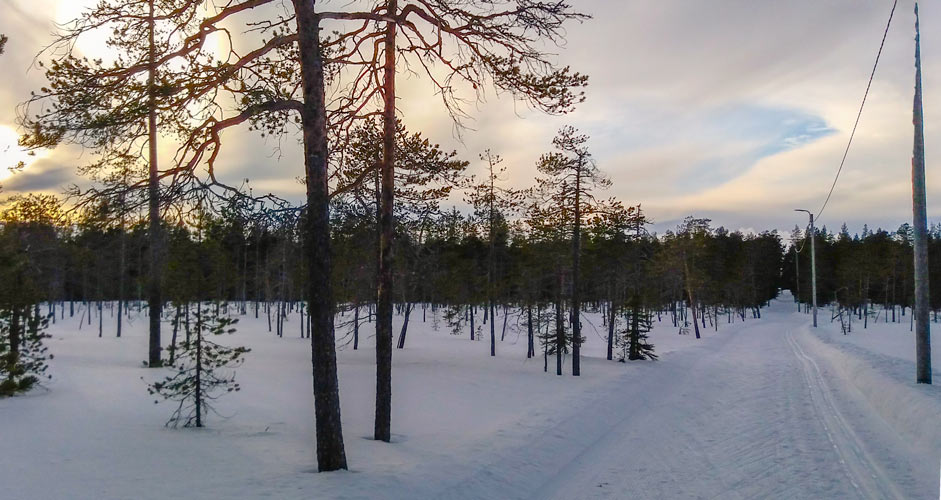 Hiking
Besides the magnificent views, Ounasvaara Hill offers a vast network of well-maintained and clearly marked hiking trails. The trails are also maintained during winter.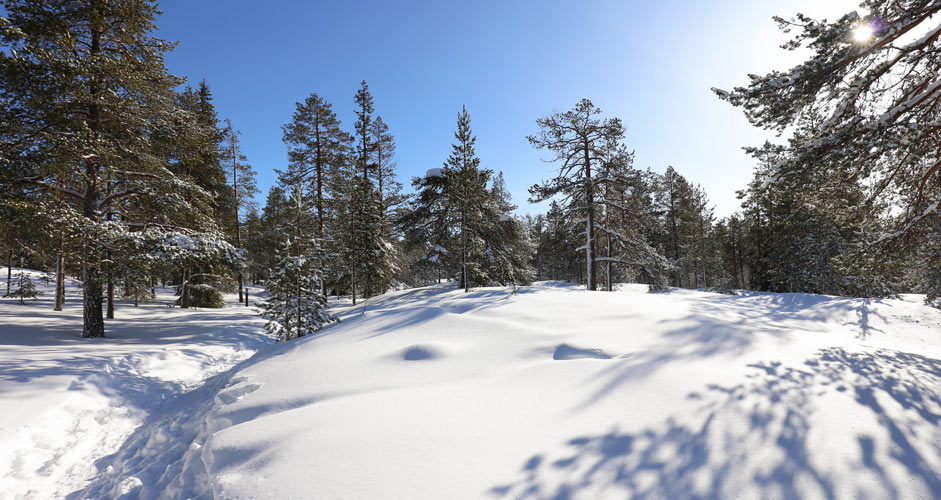 Restaurants to try in Rovaniemi
Lappish cuisine may not be as famous as the French or the Italian, but the locally sourced ingredients from the clean arctic nature, cooked to perfection, make it no less of a culinary experience. Herbs, berries and game, coming from the vast forests of the North, and the freshly caught fish from the cold waters of the Arctic, constitute the essence of Lappish kitchen.
One ingredient that is an absolute must, is reindeer meat. It's always been a vital part of Sámi's diet for surviving through the long and cold winters. The lean reindeer meat with fine taste of game is unique. Try reindeer in various ways; cold smoked, sautéed or grilled, and pick your favorite form. Sautéed reindeer with mashed potatoes and lingonberry jam is a delicious course, which you'll find in every restaurant in Lapland.
Restaurant Nili
Decorated with wooden Lappish handicrafts, reindeer horns and leather, the intimate Restaurant Nili feels more like a cottage living room rather than a typical restaurant.The renowned kitchen of the restaurant serves classic Lappish dishes.
Sky Kitchen & View
Sky Kitchen & View with panoramic windows is located at the top of the Ounasvaara Hill, offering spectacular views over the Rovaniemi area. It has been selected as the best restaurant of Lapland multiple times.
Arctic Boulevard
Arctic Boulevard  is a casual restaurant serving casual plates, while respecting the first-class ingredients on their Lappish themed courses. High quality Finnish beef, lamb, reindeer, willow grouse, salmon, and king crab are carefully prepared to ensure a tasteful experience.
21 Cafe & Bar
This trendy cafe works well as a brunch or a lunch place. Their light and semi-healthy menu brings a fresh contrast to the heavy Lappish food. The sweet and savory waffles are the trademark of 21 Cafe&Bar.
Rovaniemi pubs & nightclubs
Rovaniemi offers a decent selection of pubs, sport bars and nightclubs. The nightlife is at its busiest on Fridays and Saturdays, when all the nightclubs are open. Pubs open their doors around midday and close around 2am. Nightclubs open their doors around 10 p.m. and close around 4 p.m.
A local drink to try
"Minttukaakao" is known to every barman in Finland. This Finnish alternative to Irish Coffee, consisting of hot chocolate and peppermint liqueur, is sure to keep you warm on a cold winter day.
Uitto Pub
The lumberjack themed Uitto Pub, in the center of Rovaniemi, offers a nice variety of drinks, hearty meals and a good selection of board games.
Website: Uitto Pub
Oliver's Corner
The one and only Irish Pub in town. Oliver's Corner offers live sports and the best selection of whiskeys in Rovaniemi. Their upstairs nightclub is open until later hours. Moreover, there's karaoke on Wednesdays and Thursdays.
Website: Oliver's Corner
Bull Bar & Grill
This American style sports bar offers live sports along with a menu designed for sports fans - burgers, ribs, chicken wings etc.
Website: Bull Bar & Grill
Half Moon
Half Moon is the biggest and the number one nightclub in the center of Rovaniemi. It's also the main venue in Rovaniemi for Finnish artists to have gigs.
Website: Half Moon
Shopping in Rovaniemi
Don't worry if you forgot clothing back home, since in the center of Rovaniemi alone, there are three shopping centers. The Retail store Clas Ohlson in Shopping Center Rinteenkulma has many handy gadgets if you happened to forget your adapter or phone charger back home.
What to buy home
The Marttiini knife factory was founded in Rovaniemi in 1928. Their high-quality knives are famous all over Finland. The beautifully carved Lappish knife is a nice gift idea, if you're looking to bring home something authentic from Lapland. Their store is situated in the Rinteenkulma Shopping Center.
Prices in Rovaniemi
The general price level in Finland is one of the highest in Europe, and unfortunately, food and alcohol prices follow the same line. There are significant price differences in hotel rooms between the high and the low seasons. December and January are the peak months in Rovaniemi.
Below, there are some examples of restaurant and hotel prices in Rovaniemi. Costs of hotel rooms refer to median prices at Booking.com.
Product
Hotel, 3-4 stars (December)
How to Arrive to Rovaniemi
Rovaniemi is well connected with other cities in Finland. You can reach the city by rail, road or air.
Rail
The Railway Station of Rovaniemi is located in the city center. The route starts from Helsinki in the south, connecting major cities such as Tampere and Oulu along the way. You can choose between a day and an overnight service. Overnight services have sleeping-cars to make the journey more comfortable.
Prices and schedules: vr.fi
Air
Rovaniemi airport (RVN) is located some 10 kilometers away from the city center. Finnair flies between Helsinki and Rovaniemi several times a day. There are a few direct flights to Rovaniemi from other European destinations as well, including London.
A taxi ride from Rovaniemi airport to the center costs around 25-30 euros. Alternatively, there's a shuttle bus connection between the airport and the city center.
Shuttle bus: Airport Bus
Airport page: Rovaniemi airport
By Road
There are several long-distance coach companies with connections to Rovaniemi from other Finnish cities. The best way to compare prices and schedules is to use Matkakeisari.
When to travel to Rovaniemi
There are four distinct seasons in Rovaniemi, each with its own charm. The warm summers with Midnight Sun; brisk autumns with brightly colored leaves; snowy, cold winters with northern lights on the sky; and sunny springs ideal for winter sports.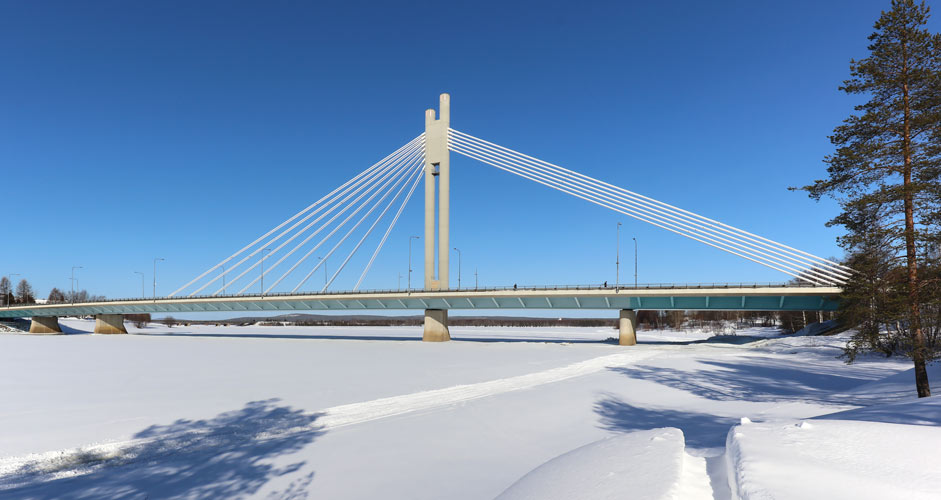 Winter: The winter months, December, January and February, is the coldest time of the year. December is the absolute high season in tourism, as people arrive to experience the Christmas magic.
Early December is usually the first time, when the permanent snow is guaranteed and winter activities on snow are offered with certainty. December is also the darkest month of the year. The polar night lasts throughout December, and there's only a few hours of light daily.
The long and dark evenings and anticyclones create ideal circumstances for spotting the northern lights. The average temperatures vary between -25°C and -15°C from mid-January to late February. During the Christmas season, the average temperatures are slightly milder.
Spring: The early spring, March and April, is ideal for winter sports such as cross-country skiing or downhill skiing. The sun is shining regularly, and temperatures are milder than in the wintertime. The snow starts to melt around Easter. Temperatures vary between -15°C and 5°C on average.
Summer: The summer months, June, July and August, are the warmest months with temperatures between 15°C-25°C on average. These months are ideal for hiking or kayaking on the rivers near Rovaniemi. The white summer nights of the North are unique if you haven't witnessed them before. During the Midnight Sun, from early June to early July, you'll have 24 hours of sunlight.
Note: Billions of mosquitos can be a big nuisance in Lapland in the summertime and early fall. If you decide to travel there, a mosquito net hat is a recommended purchase. And even that won't necessarily help against the smallest blackflies.
Autumn: Temperatures drop quickly during the early Autumn, which is the best time to spot the most vivid colors of the northern flora. From early September onwards, you'll be able to spot the Northern light on breezy evenings. In October, there's normally the first snowfall, which turns into slush and melts away. The permanent snow might reach Rovaniemi in the late November. Average temperatures vary between 5°C and 15°C during the early stages of Autumn, and between -5°C and 5°C during the later stages.
---
Text: Ville Ryynänen
Images: Jussi Ryynänen
All destinations in Finland