Bugibba is more like a Mediterranean holiday destination rather than a local Maltese town. Adjacent to the shoreline, there's a nice pedestrian street for strolling around. The inner areas of the town contain plenty of British pubs, restaurants, hotels and apartments.
However, the real advantage of Bugibba is its location. The best beaches of Malta are only 7-12 kilometers away. In addition, The Cirkewwa port, with connections to both Gozo and Comino, is also just 15 kilometers away.
Bugibba works well for those who appreciate the proximity of beaches and comfortable services of a vibrant holiday town.
Where to stay
Bugibba is a part of the larger St. Paul's Bay area. The peninsula has two different areas, Qawra and Bugibba. Qawra is the eastern part, covering the tip of the peninsula.
Bugibba is the western part and the larger of the two. Its selection of hotels, pubs and restaurants is slightly better than in Qawra. The most central place of St. Paul's Bay is Bugibba Square, which is situated between Qawra and Bugibba.
Things to do
Bugibba beach
Bugibba beach is a man-made sand spot for sunbathing or taking a swim from. The pictures below were taken in April (2018) when it was being renovated. In the summer, there is also a beach club Nine Lives (link) and a couple of small jetties to make it easier to go swimming. There are also some rocky beaches in front of St. Paul's Bay and a bigger beach club Café del Mar (link) at the northeastern tip of Qawra.
The best beaches in Malta are about 10-20-minute taxi ride away from Bugibba, depending on your accommodation and the beach are you heading to. Golden Bay, Ghajn Tuffieha and Gnejna Bay are the closest beaches. Mellieha Bay (the biggest beach in Malta) is not much farther away. You can also get there by bus of course. To get to Golden Bay and Ghajn Tuffieha, check the lines 223 and 225. To Mellieha Bay, check the lines 41, 42, 49, 221, 222 and 250.
You can read more about those beaches here.
Water Sports
Water sports is always a fun way to spend a scorching hot day. Options are jet skis, paragliding, paddling boats, banana rides... You name it. One of the activity organizers is Flo-Jo's Watersports.
Sightseeing Cruises
In Bubigga jetty, you'll find ferries for sightseeing cruises, taking you to the islands of Gozo & Comino (Blue Lagoon) and nearby areas. Fresh sea air is perfect to cool you off in the heat of the day. The following companies organize cruises: Sea Adventures and Sea Horse Cruises Malta. The latter one offers tailor-made cruises as well.
Malta National Aquarium

Malta National Aquarium is situated in Qawra at the north-eastern tip of St. Paul's Bay. More information: aquarium.com.mt
Wignacourt Tower Museum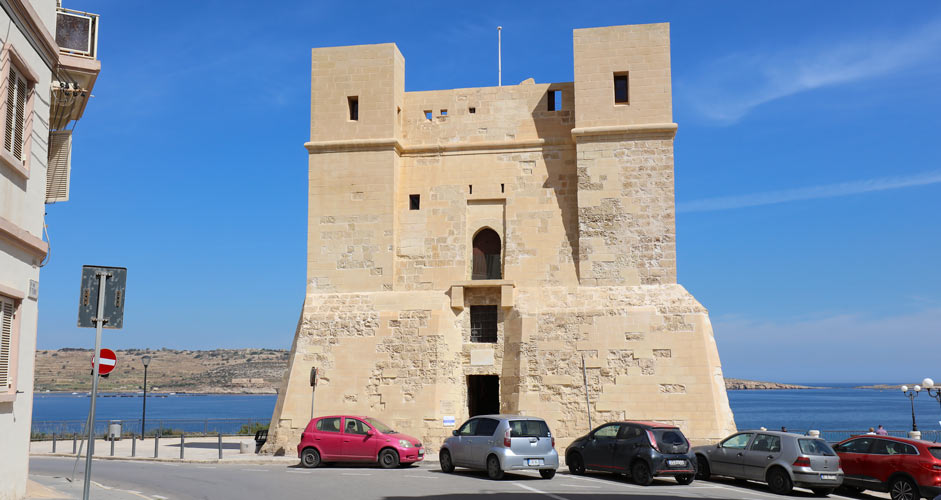 The towers of Wignacourt are the oldest remaining watch towers in Malta. A total of six of them were built in the 17th century, and four of them have remained till today. The Wignacourt tower of St. Paul's bay is the oldest of the towers. Via an exhibition, you can dive into the history of these towers and the defense of Malta in general. As a plus, the view from the top of the tower over St. Paul's Bay is spectacular.
It's open for visitors three hours a day, between 10 a.m. and 13 p.m. from Monday to Saturday (in 2018).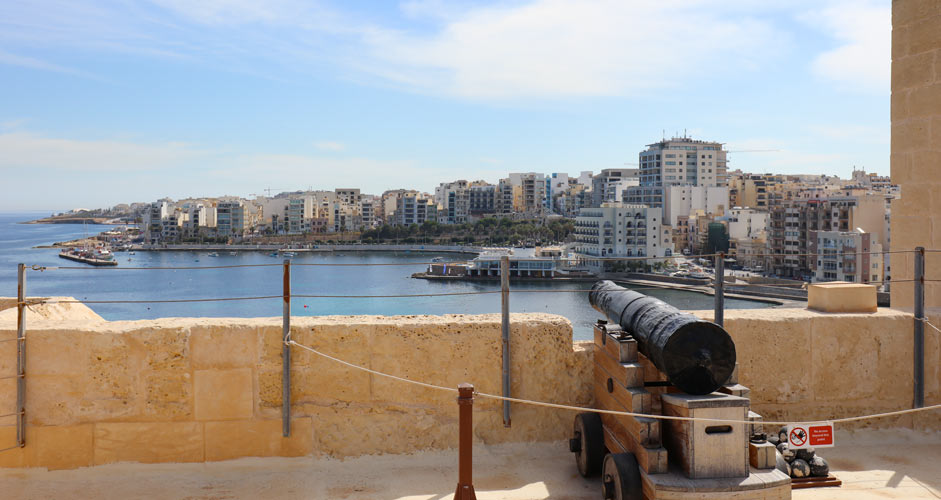 The Malta Classic Car Collection
The collection contains classic cars and motorcycles on exhibition. It's located in Qawra. More information: classiccarsmalta.com
Prices
Below, there are some price examples of restaurants and hotels that refer to median prices at Booking.com.
From Malta Airport to Bugibba
Malta International Airport, Luqa, the only airport in Malta, is located 18 kilometers away from Bugibba. There are no railroads, so the bus is the only option besides taxis or other private transportation.
The bus line X3 (timetables can be found here) goes from the airport to Bugibba and Qawra. The journey takes 1,5 hours.
The line X1 to Cirkewwa operates via Bugibba and takes only 40 minutes. However, it stops only at the big road south of Bugibba (Timetable: San Pawl il-Bahar/Kennedy). The distance from the Kennedy bus stop to Bugibba Square is 900 meters on foot.
It's possible to get a taxi for a fixed price by paying for it at the taxi booth at the arrivals-hall. Taxi prices for different destinations can be found here. An administrative fee of a few euros could be added to the price.
Bolt (former Taxify) operates in Malta, and it's cheaper than traditional taxi companies.
Weather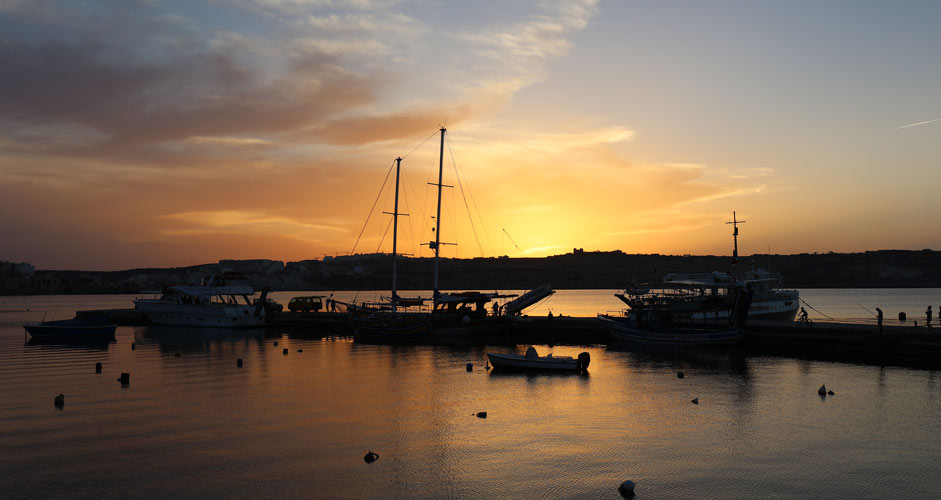 Winter: Daytime temperatures vary between 13-19°C and drop to both sides of 10°C at night. The rainiest time of the year is between October and February.
Spring: Already in March, daytime temperatures may exceed 20°C. In April, daytime weather may resemble that of a hot summer day, but evenings are cool. Therefore, it's best to have appropriate clothing with you. It rains occasionally, but less than earlier in spring.
Summer: Summers are hot and dry. Daytime temperatures reach 30°C regularly and above that in July-August. While nighttime temperatures may drop to 20°C in June, they stay around 25°C later in summer.
Fall: It's warm until late in fall. Even in October, daily highs are around 25°C. In November, daytime temperatures begin to drop to about 20°C, and to 10-15°C at night. It starts raining more frequently towards winter, and in October, it rains every three days on average.
---
Text, images and video: Jussi Ryynänen
Music of the video: The Beacon / Zachariah Hickman – Audio Library, Youtube
All destinations in Malta