The beauty of Sliema is highlighted by the two-kilometer-long beach promenade, and the busy port with connections to all Maltese islands.
Sliema is more modern than the rest of Malta. It's mainly a business and residential area rather than a tourist resort. Yet, its selection of accommodation is extensive, and hotel prices are very moderate compared to Valletta across the bay.
The shopping possibilities are great in Sliema; The biggest shopping center in Malta, The Point, is located on the southeastern tip of the island.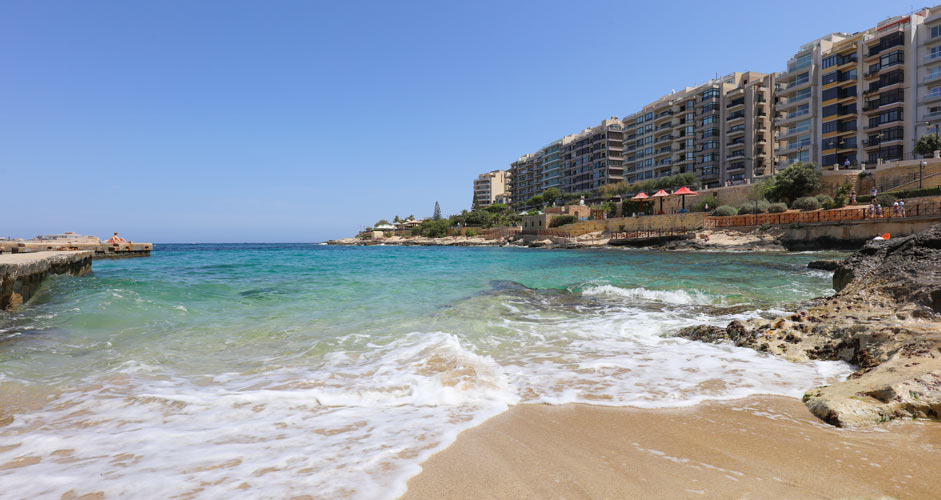 Things to do in Sliema
Sightseeing Cruises
There's a good selection of sightseeing cruises and party boats available to visit the other parts of Malta, Gozo and Comino. Here are a few operators with good ratings on TripAdvisor:
Tip Top One - Party Malta Cruises - Hera Cruises - Luzzu Cruises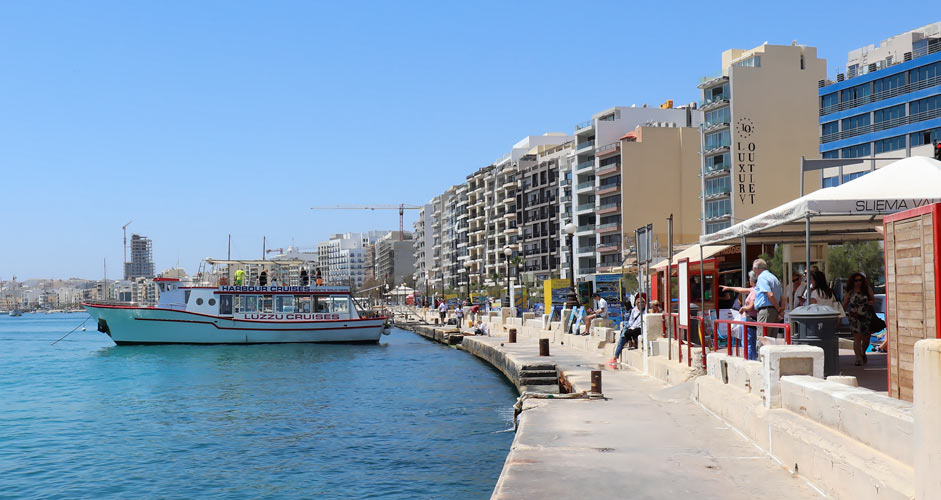 Ferry to Valletta
The ferry operates from morning to evening between Sliema and Valletta. The departure point is on the southside of Sliema.
More information: vallettaferryservices.com
Sea promenade
There is a promenade/wide pedestrian street along the eastern and northern shores of Sliema, extending all the way to the neighboring town St Julian's. Along the way, there are restaurants, beach clubs as well as a great view to the sea.
Diving
There are several diving centers in Sliema, organizing courses and renting equipment. The actual diving sites are located all over the island.
Malta Blue Diving - Dive Systems Malta - Diveshack - Watercolours Dive Centre
Water Sports
There's a wide selection of water sports rental offices in St Julian's.
Sliema Beaches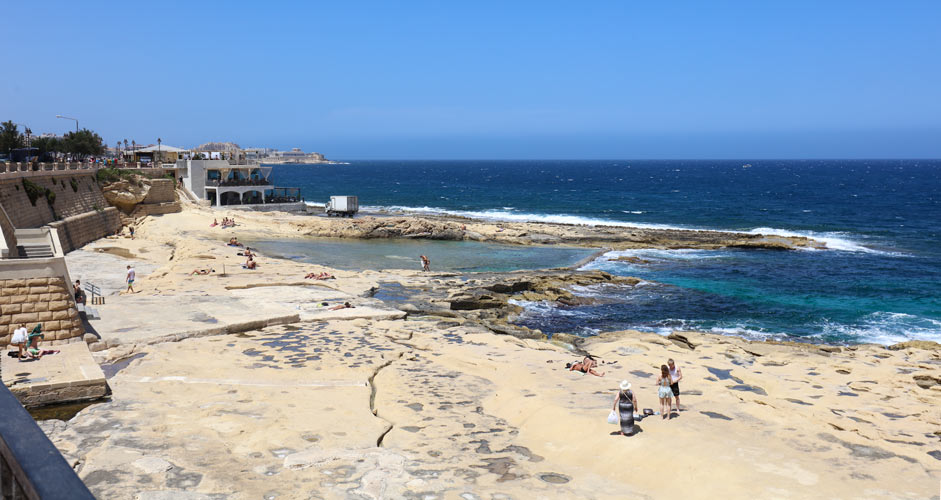 The major part of Sliema's coastline consists of rocks ideal for sunbathing. Often there are ladders for dipping in for a swim (on a calm weather). The closest sandy beach is situated in the neighboring town, St Julian's.
The best beaches of Malta (Mellieha Bay, Golden Bay, Ghajn Tuffieha) are located about 20 kilometers away. For more information about them, click here.
Shopping and prices
The Point, the biggest shopping center in Malta, is situated in the southeast corner of Sliema. There's also a smaller shopping center nearby, called Plaza.
Below, there are some examples of restaurant and hotel prices in Sliema. The room rates are significantly lower compared to Valletta. The prices refer to median prices at Booking.com.
From Luqa/Malta Airport to Sliema
Luqa airport is the only airport in Malta. It's located about 10 kilometers southwest from Sliema. Bus line X2 drives from Malta Airport first to St. Julian's (San Giljan), and then to Sliema on the way back to the airport. The easiest way to figure out the quickest way is to use the journey planner of the public transport.
Taxi prices for different destinations can be found here. An administrative fee of a few euros could be added to the price.
Bolt works in Malta, and it's cheaper than traditional taxi companies.
Weather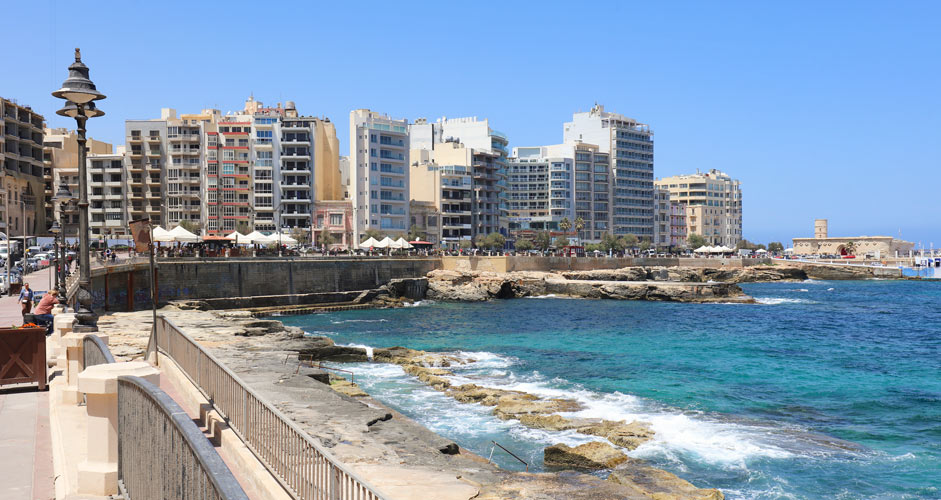 Winter: Daytime temperatures vary between 13-19°C and drop to both sides of 10°C at night. The rainiest time of the year is between October and February.
Spring: Already in March, daytime temperatures may exceed 20°C. In April, daytime weather may resemble that of a hot summer day, but evenings are cool. Therefore, it's best to have appropriate clothing with you. It rains occasionally, but less than earlier in spring.
Summer: Summers are hot and dry. Daytime temperatures reach 30°C regularly and above that in July-August. While nighttime temperatures may drop to 20°C in June, they stay around 25°C later in summer.
Fall: It's warm until late in fall. Even in October, daily highs are around 25°C. In November, daytime temperatures begin to drop to about 20°C, and to 10-15°C at night. It begins to rain in September. The rainfall increases as winter progresses.
---
Text, images and video: Jussi Ryynänen
Music of the video: Road Home / VYEN – Audio Library, Youtube
All destinations in Malta