Comino is an arid, tiny island between the main island Malta and Gozo island. The main attraction of Comino is the beautiful Blue Lagoon with crystal clear water and white sand.
The western side of Comino offers easy hiking trails with wonderful views to the sea. In the southeast, there are a couple of old buildings, a watch tower and a military barrack. In the north, there's an old church and a former hotel. Otherwise there are hardly any buildings on the island. The eastern side is completely untouched, so if you're looking to go off the beaten path, that's where to go.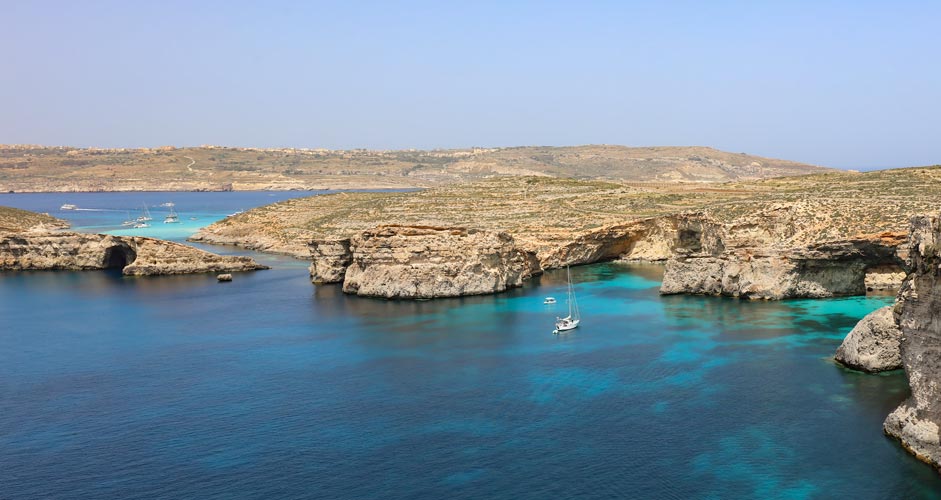 Things to do in Comino
Blue Lagoon
Blue Lagoon is a shallow area between the islands of Cominotto and Comino, with beautifully clear turquoise water. Although the surrounding area is mainly rocky, there are narrow strips of sandy beaches on both sides of the lagoon. Therefore, while it's not ideal for small children, it's perfect for adults. It's a fantastic spot to enjoy a drink in a stunning scenery.
The water is shallow at first but gets deeper. You must swim to get over to the other side of the lagoon. Be careful in windy weather though, since the underwater currents can be strong. They've taken many tourists by surprise. There are lifeguards and warning signs of the dangerous currents in the summertime. In the autumn and winter, it's better to stay in the shallow water.
There are food trucks just behind the lagoon for getting snacks and cold drinks. There are also payable lockers and bathrooms.
Blue Lagoon can be very crowded in the summertime. Pictures on this page were taken in April, when it was still quiet in the area.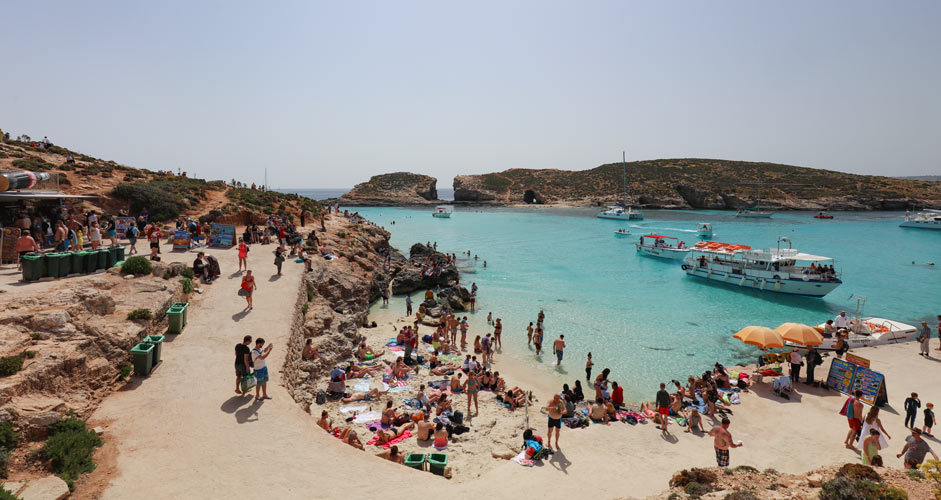 Other beaches in Comino
Santa Maria Bay in the northeastern tip of Comino is a nice alternative, if the Blue Lagoon seems too crowded for you. You'll also find some basic services at the beach, such as sun decks.
North of Blue Lagoon, you'll find plenty of rock-based beaches for sunbathing.
Water Sports
There are plenty of options for sports, such as jet skis, kayaks and other fast rides as well as inflatable things that are pulled behind a high-speed boat. Comino Dive Center is situated at the Comino Hotel and Bungalows in the northern tip of the island (website).
How to get there
There are fast boats going to Comino from Cirkewwa Harbor (Malta) and from Mgarr Harbor (Gozo).
The fast boats take about 15-25 minutes from Cirkewwa to Comino, and the two-way ticket cost about 10 euros. You can buy tickets either online or directly at the quay. As the tickets aren't bound for any certain departure times, you're free to travel when you wish, given there's room on the boat. If it gets too crowded, they make extra trips to get everyone off the island. There are several fast boat companies operating that route.
Another option to get to Comino is by a cruise departing from Sliema, Bugibba or Mellieha Bay. These cruises are more expensive than the direct fast boats, since they take passengers to the best spots on the way. They may also visit Gozo for a short stay. Some of them have food and drinks included in the price of the ticket. It's possible to get to these cruises from some other destinations as well; for an extra cost, they will arrange a ride to the harbor. There are several cruise companies operating to Comino.
---
Text, images and video: Jussi Ryynänen
Music of the video: Dodo Bird / Quincas Moreira – Audio Library, Youtube
All destinations in Malta