Like most Mediterranean destinations, Split is an excellent destination for fish and other seafood lovers. While several restaurants offer some local specialties, Croatian cuisine has nonetheless been strongly influenced by the nearby famous cuisines, such as those of Greece and Italy.
There are two types of restaurants: Actual restaurants (restoran) and tavern-style options (konoba). Konobas are great for trying out local food and if you're looking to eat more cheaply. Although konobas aren't necessarily that cheap anymore, they tend to be more affordable than restorans.
There's a wide variety of restaurant options in Split, ranging from fine dining to grill restaurants, konobas, pizzerias and hamburger restaurants.
Fish dishes
The fish is served either as a fillet or whole. Especially in konobas, in the case of light-fleshed fish such as sea bass, the fish is often served whole. Although the fish is at its tastiest when cooked whole, the fishbones, depending on the fish, can be of nuisance when eating. Therefore, it may be easier, especially for children, to order the fish as fillets instead.
Common types of fish on restaurant menus include, for example, sea bass and tuna. Monkfish is also typical.
Octopus and/or shellfish are almost always included on menus. Risottos and pastas that combine different seafood are very common, in which case mussels are usually also included.
Fish stews are also popular, especially in konobas. Dalmatian (southern part of Croatia) fish stew with potatoes is called gregada, which may also contain shellfish and mussels. Another seafood stew is Brudet, which is cooked in a tomato sauce. It is usually served with polenta.
One of the tastiest and most common dishes in Split and around Croatia is black risotto. It's a squid risotto, which gets its color from squid ink added to the food. However, the risotto may also contain other seafood, and at least the broth offers other flavors besides squid. It's definitely a food worth trying in restaurants in Split, even though it may not look as the most delicious dish (picture below).
Meat dishes
Air-cured ham is a popular appetizer in Split. In Dalmatia, local ham is produced using a slightly different technique than, for example, in Spain or Italy. Dalmatian ham (Dalmatinski pršut) is always to be found on the menus, either as part of a cold platter or with, for example, olives and walnuts, as shown in the picture below. Air-cured ham also tastes good with cheeses and, for example, fig jam.
There are rarely any surprises regarding the main meat dishes. They usually consist of classics served around the world, such as ribeye, pork/lamb chops, slow cooked lamb shank, or beef tenderloin with red wine/pepper sauce.
However, there's one local meat dish that is often found on the menus: a meat stew called pašticada. In this dish, the meat is first tenderized overnight in wine vinegar, which, in addition to the acidity, adds flavor to the stew. As a counterbalance, the sauce is made rather sweet using either dessert wine, plums, figs, or all of these. All sauce ingredients are pureed after a long simmer, and only the meat and sauce are placed on the plate. The dish is usually served with gnocchi.
Another traditional local meat dish is the peka, mentioned in the fish dishes section. In peka, the ingredients, often lamb as the type of meat, are cooked for a long time in a pot or cauldron. In this dish, all of the components are cooked under the same lid from start to finish.
Vegetarian food
Vegetarian dishes are not that common on the menus. Mostly, you'll find them as appetizers or in more upscale restaurants. However, there are some restaurants in Split that either have the focus on vegetarian food or are completely vegetarian.
Fast food in Split
There are no international fast food chains in the center of Split, and instead, you usually have to go to shopping centers to find them. However, there are several local fast food places in the city center, focusing mainly on burgers and sandwiches (filled baguettes). The sandwiches are mostly filled with chicken or ćevapi.
Ćevapi (or ćevapčići) is available all over the Balkans. They are dense and grilled minced meat patties, which are always accompanied by raw onions and usually paprika paste, i.e. ajvar. In restaurants, the Ćevapi portion can also be served on a plate with french fries.
If you want to satisfy your hunger quickly and inexpensively, you can buy a pizza slice, offered in a few places in the Old Town for a couple of euros. Also the warm phyllo pastry bureks, found in bakeries, will get the job done, and they are both tastier and more filling than pizza slices (more in the bakery section).
The kebab culture in Split is very modest, and the meat may even be heated in the microwave. Hence, you should rather focus on ćevapi.
Restaurants in Split
The best restaurants in Split are located in the Old Town or in its immediate vicinity. As a general rule, you should avoid the waterfront promenade Riva and larger squares, where the price-quality ratio is the lowest. However, as one of the best restaurants in Split, Zoi, is located at the east end of Riva, this rule is not set in stone. Moreover, the popular, high-quality breakfast place, Brasserie on 7, is also located on Riva, but, accordingly, it is also expensive.
For up-to-date reviews, Tripadvisor is the best source. When looking for fine dining restaurants in the Michelin guide, you'll find a few, but no starred ones. A good fish restaurant, the family restaurant Konoba Fetivi, is one of the recipients of the Bib Gourmand award. Restaurant Dvor has a cozy terrace with a sea view, as it is located directly above the Firule beach.
Market
There's a large market area immediately east of Diocletian's Palace. You'll find several types of fresh fruits and vegetables, and there is a row of butchers on the eastern side of the market. The market also has good local olive oils, cheeses, air-dried ham and, for example, fig products for sale.
Hard sheep's milk cheeses from the island of Pag, i.e. Pag cheese or Paški sir, are well-known. Skuta has a very mild taste, and it is served in restaurants with, for example, honey. Cow's milk cheese Skripavac also has a mild taste, and it can be eaten as it is or grilled, for example, in salads. Of these cheeses, only Pag cheese can be found at the market.
Bakeries
The bakery culture is strong in Split, and you can find bakeries (pekara) everywhere. In addition to breads and sweet pastries, a large part of the selection consists of pastries made from phyllo dough, filled with meat (meso or s mesom), chicken (piletina or s pillitenom), cheese (sir or sa sirom) and/or spinach (špinat or sa špinatom).
The most common such product is the warm burek, served all over the Balkans. The pieces of zvrk next to them in the picture consist of the same ingredients, but are smaller in size.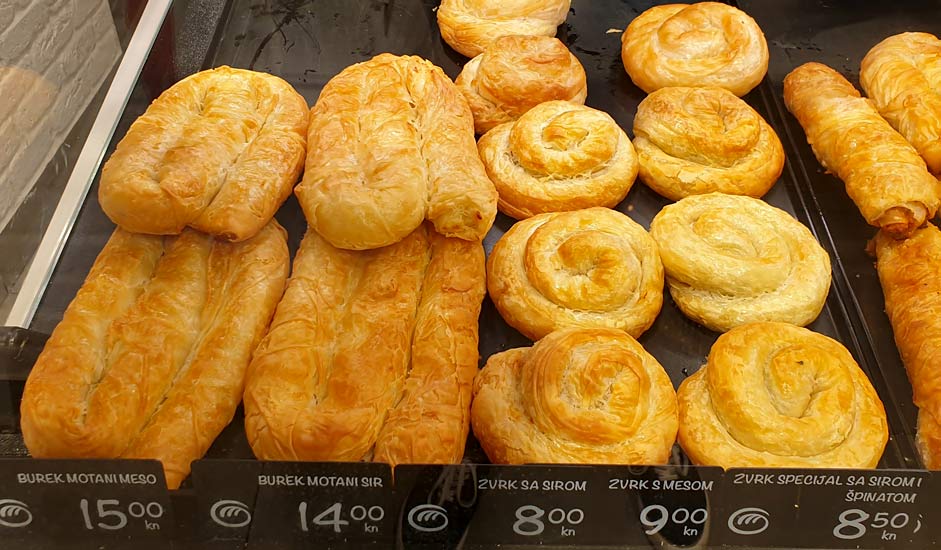 ---
Text and Photos: Jussi Ryynänen