In Barcelona, sports play an important role in everyday life. It's not rare to see locals having a morning run at the beach promenade before dawn, or a group of rollerbladers occupying the streets after sunset. The locals are very proud of their rich history in professional sports.
The Olympics were held in Barcelona in 1992, and the city has top tier sports clubs in football, basketball, handball and in many other team sports. Consequently, there is a multitude of sports venues, from ice hockey rinks to tennis courts, scattered around the city.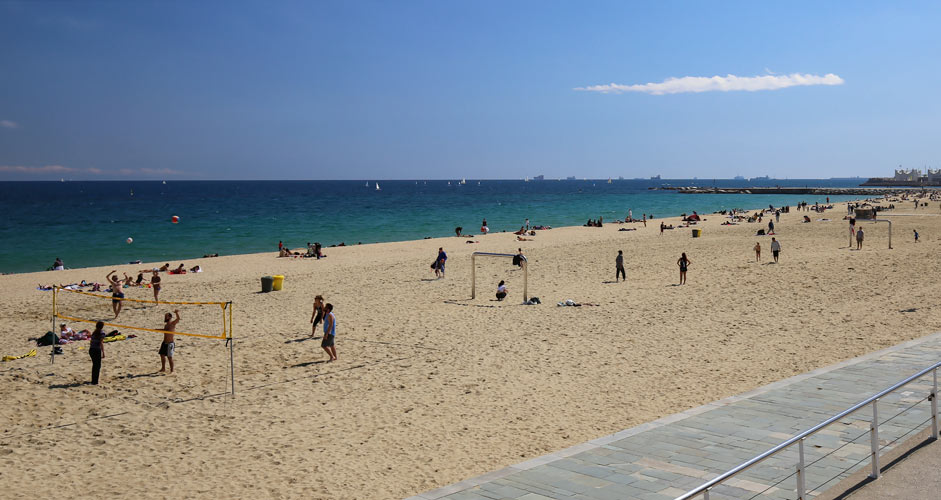 Tennis
Tenis Vall d'Hebron
Up in the hills of North Barcelona, the tennis center, Vall d'Hebron Tennis, was opened for the Olympics in 1992. This sports center, run by the municipality, has 17 clay courts and 7 synthetic courts. You can reserve a court on their homepage by registering as a user or by going directly to the center. You can check the availability from the calendar on their website before going to the center.
Address: Passeig de la Vall d'Hebron 178-196
Webpage: tennisvallhebron.cat
How to get: Metro line L3, stop at Montbau.
CEM Olímpia
CEM Olímpia tennis center, located in the neighborhood of Poblenou, has 4 clay courts and 3 synthetic courts. This tennis center is also run by the municipality of Barcelona, and therefore the prices are very affordable. You can book a court either online or by going directly to the center. Check the court availability online on their homepage.
Address: Carrer de Perú 215
Webpage: cemolimpia.com
How to get: Metro line L2, stop at Bar de Roda. Metro Line L4, stop at Selva de Mar.
Real Sociedad de Tenis Pompeya
Despite of its fancy name, Real Sociedad de Tenis is quite an affordable tennis center on the Montjuic hill. It takes about 15 minutes from Plaça Espanya to walk uphill to the center. Overlooking Barcelona, you'll find 6 good quality clay courts. You can't reserve courts in advance; instead, you'll have to go to the club and wait for your turn. Typically, you don't need to wait for more than half an hour.
Address: Carrer de la Foixarda, 2-16
Webpage: rstpompeya.com
How to get: Metro lines L1 and L3, stop at Plaça Espanya
Karting
Indoor Karting Barcelona
Indoor Karting Barcelona is situated in Sant Feliu de Llobregat, about a 20-minute drive away from the center of Barcelona. At the karting center, you'll be driving 270cc go-karts on a 500-meter long circuit, which is one of the most advanced indoor tracks in Europe. There's another circuit for children from 2 to 6 years of age.
Individual drives last for 10 minutes. With a group of minimum 10 persons, you can build up longer grand prix races. The center has a bowling track, laser tag facilities and a restaurant. Remember to bring your passport.
Address: Pol. Ind. El Pla, Carretera de Laureà Miró, 434, 08980 Sant Feliu de Llobregat
Webpage: indoorkartingbarcelona.com
How to get: It's quite complicated to get there by public transport, so taxi is an easier choice.

Bowling
Bowling Pedralbes
Bowling Pedralbes, is situated in the neighborhood of Les Corts, close to Camp Nou stadium. This place isn't anything fancy, but serves the purpose, if you're searching for a bowling track. Currently, it's the only bowling track within the Barcelona city area. There are 14 lanes for bowling, a pool table and foosball. They don't offer glow bowling. The bowling track has a restaurant serving decent basic food like burgers and tapas.
Address: Avinguda del Doctor Marañón, 11 bajos, 08028 Barcelona
Website: bowlingpedralbes.com
How to get: Metro L3 and L9S, stop at Zona Universitària. It's a 5-minute walk from the metro stop down the street Avinguda de Marañon.
Swimming
Piscina Municipal de Montjuïc (Outdoor pool)
The public swimming pool of Montjuic is situated the neighborhood of Poble Sec. The venue has two swimming pools: a pool for diving and a 25-meter outdoor pool. It hosted the diving events and the water polo preliminaries in the 1992 Summer Olympics. You'll get great views over Barcelona from the swimming pools.
Address: Avinguda Miramar, 31, 08038 Barcelona
Website: cnb.cat
How to get: Take the metro line L3 to Parallel metro station. A funicular from Parallel metro station takes you right next to the swimming pool. The funicular is included in the price of the metro ticket.
Club Natació Barcelona
Club Natació Barcelona is located at the Barceloneta beach. There is a good selection of pools: one covered pool of 50 m x 25 m, one outdoor salt water pool of 33 meters and one outdoor pool of 25 meters. Inside they have a small covered baby pool.
Address: Passeig de Joan de Borbó, 93
Website: cnb.cat
How to get: Take the metro line L4 and stop at Barceloneta. It's about a 15-minute walk from the metro station.
Piscines Picornell (Indoor and outdoor pools)
The municipal swimming pool on the Montjuïc hill was used as a venue for the Olympic games in 1992. At the center, there's a 50-meter outdoor pool, an outdoor diving pool and another 50-meter indoor swimming pool.
The Day pass prices cover access to all swimming pools, gym, saunas & showers with lockers. Remember to bring your passport or ID card for registration. If you wish to use the gym, then remember to bring your sports shoes and a training towel.
Website: picornell.cat
Address: Avinguda de l'Estadi 30-38
How to get: Metro lines L1 and L3, stop at Espanya. Take the exit Fira and walk through the two towers towards MNAC. There is an escalator that takes you all the way past MNAC and to the swimming pools. The walk takes around 15 minutes. Alternatively, the bus 150 leaves from Plaça Espanya and stops next to the swimming pools.
---
Text: Ville Ryynänen. Photos: Jussi Ryynänen
Other Categories in Barcelona